Three cities. One tram system. Our StUB.
Together with you, we are planning the Stadt-Umland-Bahn – our sustainable transportation alternative. It is intended to connect the cities of Nuremberg, Erlangen and Herzogenaurach by tram. Environmentally friendly. Handicapped-accessible. Modern. Get involved and shape local mobility with us.
46000
passengers on a working day (Monday to Friday)
10
minute intervals along the entire route
100
percent contribution to active climate protection on site
What is the Stadt-Umland-Bahn actually?
The Stadt-Umland-Bahn, or StUB for short, is the tram system for the metropolitan region! It will connect the cities of Nuremberg, Erlangen and Herzogenaurach, bringing the region even closer together.
What are the benefits of the StUB?
The Stadt-Umland-Bahn is climate-friendly: It emits significantly fewer greenhouse gases on site than a car. If the use of green electricity is planned, the emission value is even close to zero!
When is the Stadt-Umland-Bahn coming?
Construction of the route is scheduled to begin in the mid-2020s. At the end of the 2020s, the first Stadt-Umland-Bahn tram is scheduled to run from the "Am Wegfeld" stop in Nuremberg to Erlangen.
The route
Where does the Stadt-Umland-Bahn go?
Together with the people of the area, we have developed and examined over 100 variants for the route of the Stadt-Umland-Bahn. The result is the best route for the tram line, after considering all the criteria (benefits for passengers, environment, financing, etc.).
---
My tram line. Our StUB!
More space, more peace and quiet, more room to breathe: As a modern and environmentally friendly means of transportation, the Stadt-Umland-Bahn offers added value for everyone. Read more
---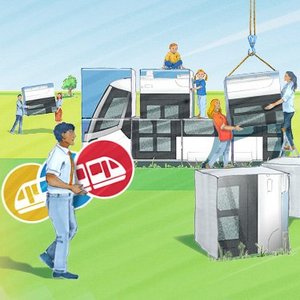 Participation
Our StUB is your StUB!
Get yourself and your ideas involved in the planning of the Stadt-Umland-Bahn. Take an active role in shaping the tram project. We look forward to receiving your suggestions!
---
You might also be interested in …
This is us!
As the Zweckverband Stadt-Umland-Bahn, we have the task of planning, building and operating the StUB for the three cities of Nuremberg, Erlangen and Herzogenaurach.
The next steps
Planning for what is currently the largest tram line project in Germany is in full swing. You can find out what we are doing now and how our schedule will continue.
Contact us
Whether by telephone or e-mail – our employees will be happy to help you! A visit to our office in the city of Erlangen (Nürnberger Straße 69) is also possible at any time with prior notice.